The University of Newcastle is excited and very pleased to announce our new Global Leaders Scholarship for all students looking to study a Business or Law programme at either Undergraduate or Post Graduate level for all courses starting in semester 1 or beyond in 2021.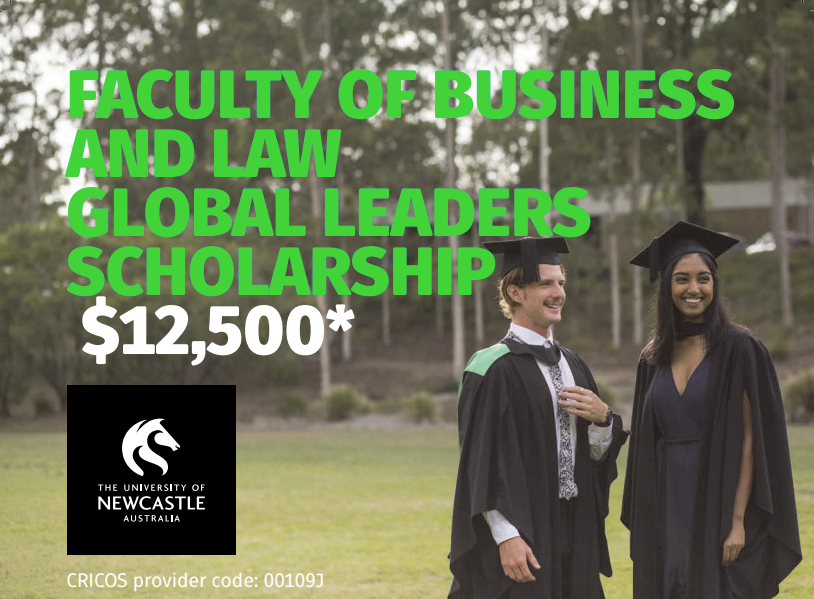 Scholarship Availability and Value
The scholarship is available for all students from The Middle East And Africa who are applying to the Faculty of Business and Law for non-research programmes. The scholarship will consist of an automatic termly fee waiver of 2500$ for each of the first 4 semesters of an undergraduate program with students who score a distinction getting an additional $2500 for the fifth semester. This scholarship is then prorated at $5000 for our one-year Postgraduate programmes ($2500 per semester/Trimester).
Undergraduate Programs
Bachelor of Business
Bachelor of Commerce
Combined Innovation & Entrepreneurship programs with
Business, Laws (Honours) or Commerce
Combined Business programs with Innovation &
Entrepreneurship, Laws (Honours) or Commerce
Combined Commerce programs with Business, Innovation &
Entrepreneurship or Laws (Honours)
Postgraduate Programs
Juris Doctor
MBA (including dual degrees).
Master of Applied Finance
Master of Human Resource Management
Master of International Business
Master of Marketing
Master of Dispute Resolution
Master of Laws (LLM)
Master of Professional Accounting/MBA
Master of Professional Accounting
The admissions department will be retroactively applying this scholarship to all existing offers for 2021 and will include those students progressing into our programme from any of our current NIC pathway classes, so you may start to see discount letters coming through for existing 2021 starters shortly.
You can also apply to the 2021 international scholarship or find 2020 scholarship opportunities 
Interested in studying in Australia?
Enter your details for a free consultation
This is what our students think of us