Say hello to Commonwealth Bank of Australia.
We'd like to introduce you to Commonwealth Bank of Australia. They're known to Aussies as CommBank.
Meet the bank more new arrivals choose.
CommBank is Australia's largest bank. They've been helping Australian dreams come true since 1911, and support more people moving to Australia than any other bank.
With a variety of products and services, you can get your banking sorted in no time. Find helpful hints and tips about moving to and studying in Australia by visiting their Moving to Australia website.
Make your move to Australia smoother
To make your transition to a new life and job easier, CommBank has made a short Welcome to Australia video that explains how to get started with your banking when you arrive.
CommBank is excited to welcome you to Australia.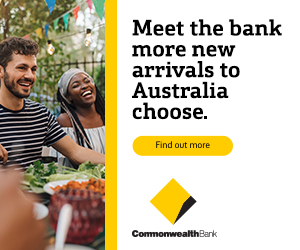 Things you should know:  Commonwealth Bank of Australia ABN 48 123 123 124 is a company incorporated in Australia with limited liability and subject to Australian regulation.